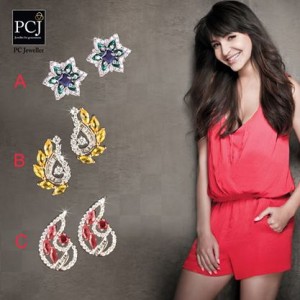 We'd like to present a comparison on how jewellery retail chains TBZ – PC Jewellers – Gitanjali Gems stack against each other.
TBZ – Tribhovandas Bhimji Zaveri
TBZ's gold jewellery and diamond-studded jewellery mix is 75:25. While 50% gold demand is from wedding, it is 40% in case of diamond jewellery. The share of fashion jewellery in gold and diamond is 50% and 60%, respectively. Revenue mix between gold and diamond jewellery has been in a range (studded share remaining around 22-25%) over the past 4 to 5 years. TBZ has 27 operational stores. However, post the regulatory issues in the industry, the company has slightly slowed down its store expansion plans. The total area under its stores has increased from ~50,000 sq ft to 88,000 sq ft. TBZ is still on expansion track as its plans to increase the store count to 57 by FY15 end. Exports: Exports are negligible.
PC Jewellers
PC Jeweller (PCJ) is focused on wedding jewellery which has continuously increased contribution from high margin diamond jewellery (diamond jewellery contributed ~30% in FY13). The company believes the wedding jewellery focus plays well as both ticket size and margins are high. PCJ has 40 showrooms located across 33 cities. It opened 7 showrooms in 2012; in FY13 it took the count to 30. The aggregate area of these stores is ~238,388 sq ft. PCJ has no plans to open stores in malls and does not believe in the franchise model. The company has a robust expansion plan and wants to take the store count to 100 by FY17. Exports contributed 20.3% to top line in Q3FY14. PCJ exports hand-made designer jewellery to Gulf nations.
Gitanjali Gems
Gitanjali Gems operates in the shop-in-shop, owned stores and franchisee models. The total number of stores at H1FY14 end stood at 101; it added 26 franchisees and 10 own stores during H1FY14. Total proportion of studded jewellery to revenue of Gitanjali Gems stood at ~38% at FY13 end. Total contribution of diamond jewellery increased from 46% in H1FY13 to 66% in H1FY14. The company is changing its business model by increasing the share of diamond jewellery in its business. Exports form a significant part of the company's total revenue. The total share of revenue that came from international geographies increased to 57% in H1FY14 with presence in US, Europe, Japan, Middle East and China.