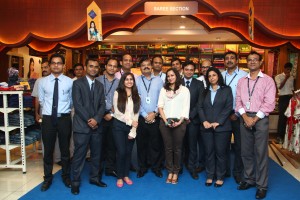 Wital See's multi brand retailer opened its Wee Store a Specialty Store for Apparels & Accessories. The flagship store is spread over 3300 square feet store and is located in the heart of Gurgaon at MGF Metropolis Mall. The new store is an exclusive apparel and accessories store that will cater to the Upper Middle Class customers located in Gurgaon and neighboring areas.
Wee store is on a concept of next door neighborhood stores catering to several brands across consumer durable products, food & beverages, apparels, lifestyle and home appliances etc. The company is targeting to launch over 100 stores in the next 3-4 months in various cities including Delhi, Vadodara, Chennai, Raipur, Lucknow, Chandigarh, Pune and Mumbai. Wee store values ethical business standards, professionalism, excellence in all aspects of work and products that are of good quality with affordable rates.
On the occasion of the Gurgaon store launch Mr. Jyoti Narain, Executive Director, Wital See Marketing Ltd. said,
With rising aspiration levels backed by higher disposable income, Indians today are seeking a global shopping experience. Our Gurgaon store is an exclusive apparel and accessories store. With its tagline 'Shopping Solutions' Wee Store will cater to the needs of the high end consumers located in Gurgaon and provide them quality products
With a strong sales and operational support the store is looking at clocking a foot fall of over 400- 500 customers on a daily basis. With its elegant interiors, Wee Store is fashionable and individualistic, providing value for money for the finest quality products. Customer can enjoy shopping at Wee store from 11 am to 9.30 pm, seven days a week. Do let us know about our shopping experience at the Wee Store.