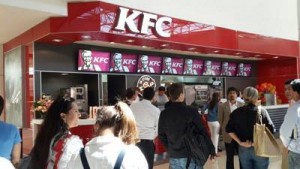 YUM! Brands has new CEO, Greg Creed and here is our take on better understanding of how management and segment changes could benefit the KFC and Pizza Hut brands and businesses.
The outlook for Germany, France, and India is admittedly more muted (although commentary on Russia was more positive), YUM is using more narrow guidelines for what regions will see capital investments, and refranchising is also on the table. YUM admits that macro has not been as strong as hoped for the last two years, but, in China and elsewhere, this is still seen as a temporary hiccup with the focus on the longer term land grab.
Essentially, penetration versus even the existing emerging market consumer class remains so small, that the white space opportunity can continue to justify growth even at a more tempered macro outlook. YUM believes the longer-term land grab justifies building in a slower growth environment.
Regulatory in China
YUM was dismissive of our belief that western companies are being targeted as it relates to food safety, and said that the rate of food safety incidents has picked up for other industries and western and non-western companies alike. It attributes this to a growing middle class and greater consumer awareness of consumer safety issues that has put pressure on the government to find and address potential consumer safety incidents.
YUM emphasized that Pizza Hut, not KFC, has been the issue versus sales targets: In our analysis that combines KFC and Pizza Hut into a single super-segment (which allows us to normalize across the segment change), we show that this "super-segment" has regularly missed its targets. YUM emphasized that this has really rested on Pizza Hut, with KFC doing much better versus goals and improving through 2014.
Mr. Creed successfully re-introduced Taco Bell to a new generation of consumers, and we think he can bring some of the same underpinnings to other concepts. Specifically, an emphasis on the difference between observation and insight / problem and symptom, having fewer, more focused brand goals, and working with partners that have greater relevancy for younger consumers.