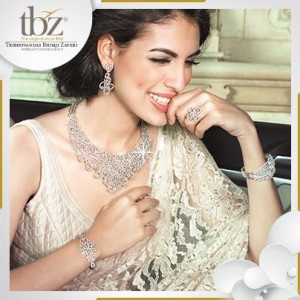 Tribhovandas Bhimji Zaveri [TBZ] is one of the most trusted name in India's jewellery industry with its more than 145-year history. Its flagship showroom in Zaveri Bazaar, Mumbai was established in 1864. Since 2001, TBZ has opened several showrooms and scaled up the number of showrooms to 14 in FY12.
The Indian jewellery retailing market is estimated at INR 1 lakh crs [USD 20 Bn]. Out of this, the share of organized retailers (Tanishq, TBZ, etc.) amounts to 10% of the overall market. Going ahead, growing urbanization and rising income levels are resulting in changing consumer tastes towards branded goods. Organized players are slated to gain market share by offering contemporary designs, hallmarking and aggressive marketing.
TBZ has been on an expansion spree post its IPO in 2012, wherein stores have been expanded from 14 to 25 (50,000 sq. ft to 88,000 sq. ft). The company is on track for further expansion, taking total store count / retail space to 35 / 1,20,000 sq. ft by the end of FY14 and 57 / 1,50,000 sq. ft by end of FY15. The store expansion will increase TBZ's presence from 18 cities in FY13 to 43 cities by FY15.
TBZ sells gold jewellery and diamond-studded jewellery in the mix of 75:25. TBZ derives an equal proportion of revenues from wedding and fashion led sales. This mix is in line with industry trend and peers like Titan.


TBZ Store format and the Dynamics of Business
TBZ operates in 2 retail formats – Large and Small, with Large being typically a 3000 sq. ft showroom while Small stores are 1000 sq. ft showrooms. For the Large Format, Average Sales per sq. ft in Year 1 is Rs 270,000 and that for the smaller one is Rs 250,000. Gross Margin for the Store franchisee is 11% on Gold and 35% on Diamond jewellery.
TBZ is entering newer cities as part of its expansion strategy. Our interaction with the management suggests the brand is receiving a hearty reception and sales targets of INR 2.5 lakh per sq. ft are met in a matter of 4 to 6 months for new stores. Stores are opened after thorough analysis of each city. The company holds 2 to 3 sales exhibitions annually across 100 sample cities to test market the demand potential in the city coupled with getting a status check on the brand equity of the company.
How TBZ Attracts Small Customers with Kalpavruksha Scheme?
Kalpavruksha Scheme which TBZ runs is a monthly installment for a period of 12 months and promises 1 free installment at the end of 13th month. Customers can purchase jewellery worth the aggregate 13 months of installments at the end of 13th month. Kalpavruksha scheme was launched in November 2009 and has seen huge growth over the last 3 years.
Despite the Headless intervention of Corrupt Congress Government in the Policy Matter of Gold, TBZ and other retailers are doing brisk business sacrificing whatever to retain clientele and the name built over a century.