Cherishing Moments – Wax Hands and Custom Souvenirs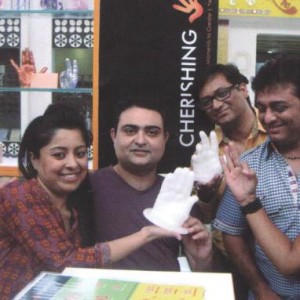 Suganda Malhotra, an MBA and Entrepreneur from Ahmadabad stumbled upon an idea of Cherishing Moments when she bumped into Wax Hands in Malayasia and that there is a huge gap in people's thinking in India )about the usage of wax – it is mostly perceived as raw material for making — idles and nothing much else. To rectify this, Malhotra decided launch a new concept on wax and other products and went to Australia for training on the subject. She kick-started the venture by opening a small kiosk in the AlphaOne Mall in Ahmedabad in November 2012.
Cherishing Moments Kiosk can create – Wax Hands, Designer Candles, Baby Memory Prints and Body Copy. THE KIOSK The kiosk is positioned as a customised memory / souvenir provider to give a joyful experience to customers in all age groups, from a new-born baby to an adult. This is the first-ever outlet but the retailer is planning to take a franchise route expansion. Suganda is currently attracting a footfall of 60 to 70 people on a weekday.
Wax Hands – The target group (TG) for this category comprises kids (4 years and above) who enjoy the experience of making wax hands and adding a variety of colours to them. It is also meant for adults. This may be in the form of their own hands or gifting one's wax hands to friends, family members, etc.
Baby Memory Prints – It is targeted at parents with toddlers who would love to capture beautiful memories of their kids.
Body Copy – Target Group comprises people of 17-35 years of age who would like to buy this product for their parents and elders. Customers in this age group want an imprint of the hand of their elders as a blessing for them which they can treasure for years to come.
Designer Candles – Customers who want to decorate their Home with designer candles.
Setting Up a Cherishing Moments Kiosk
Setting up a kiosk needs an investment of Rs 8-10 lakh and the concept works on a quick-returns business model. The Franchisee should take six to seven months to break even in this format with the average bill size of Rs 600.
Though the concept is being appreciated by visitors, there are challenges too in terms of product awareness. Sugnada said the way the concept is structured currently, kiosk format seems ideal for it. However, some months down the line, the company
also intends to explore the possibility of opening up proper stores.