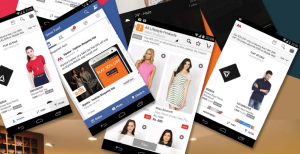 Amazon India's website traffic has doubled over the last two and a half years, and has now stabilised at approximately 200 million per month. Flipkart's traffic has declined in the face of aggressive competition from Amazon, and is now running at roughly 120m per month, from 150m per month two and a half years ago. Snapdeal was the biggest loser, though, with traffic now running at ~25m per month, which is only a quarter of what it was at the start of the period. In fourth place, ShopClues seems to have held its own at the ~20m per month level, but its app base is much smaller than that of its peers.
The other side of the equation is the huge bias that the Indian consumer has to apps. Amazon is now installed on just over a quarter of all Android devices in India, which is more than twice US and UK levels. Here, too, Amazon has made good competitive strides against Flipkart. Amazon now sits with the same installed base as Flipkart.
Why Flipkart is flirting with SnapDeal for a Merger ?
Snapdeal is running out of options for survival, clamour about a possible merger between Flipkart and Snapdeal has gained ground. Snapdeal has a broader seller network and could provide Flipkart with greater reach, in addition to access to Snapdeal's wider customer base. Also, the combined entity could possibly be in a better position to tackle the threat from Amazon. However, if Snapdeal is indeed busy falling apart, it is not clear that Snapdeal's baggage would not outweigh its benefit to Flipkart. It might be better to just leave it be.
Myntra Realises Website is a Must
Amongst fashion retailers, Jabong's slide has slowed down since its acquisition by Flipkart, although both website traffic and app installs are still in decline. Traditionally, Jabong has been strong in desktop shopping while Myntra has been primarily app based. Myntra's website traffic has rebounded nicely after the experiment with an app-only business model a year ago, but its app installed base has also declined a little over the last year. Interestingly, active app users on both Jabong and Myntra have been sliding down over the past year.
Jabong & Myntra Revenue Targets
For Myntra and Jabong, Flipkart has a target of 40-50% revenue growth in FY18 to reach ~US$2bn combined revenues. Given Amazon's increasing focus on the high-margin fashion segment, it will be interesting to see how Flipkart's dominance in online fashion retailing through Myntra and Jabong evolves.