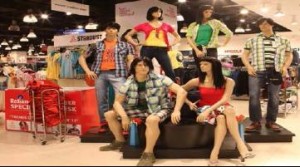 Reliance Retail's subsidiary Reliance's Brands vertical operates on a franchise model. This has been a small vertical contributing only 2% of total revenues, but growing at 50%-plus. The company is consistently tying up with global brands and widening its product portfolio – given its wide distribution of over 100 branded stores under this model. We believe as clarity on FDI in retail emerges this brand relationship with good sales growth trajectory could potentially result in healthy returns going forward.
The Following Chart Shows the Progressive Joint Venture of Reliance Retail with Global Brands

FDI Policy Helped Reliance Retail
The earlier government in end-2013 had approved 100% foreign direct investment (FDI) in single brand retail companies and a 51% cap in multi-brand retail companies, with a minimum investment requirement of US$100m and providing that 30% of the goods are sourced from India. However, implementation was left optional to the state governments and this raised a lot of uncertainty among global retailers about implementation of the FDI policy. We expect more information / likely modifications to original approved FDI policy be shared from the new government over the next 12-18 months given their focus on strong macro growth and attracting global investment for development.
Mukesh Ambani led RIL has significantly increased its presence in the retail sector and is amongst the largest retailers (inclusive of all formats) in India with around 12msf of prime retail space over 2,006 stores (across formats) spread on pan-India basis across 155 cities. Reliance has invested a total of Rs100bn (~$1.7bn) till date; and we believe it would invest Rs20bn per annum over next 2-years.