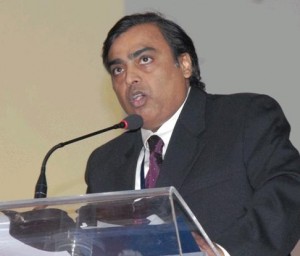 Reliance entered the retail business in 2006 and had set ambitious growth targets for 5 years. Given the growth potential of organized retail in India combined with Reliance"s financial and execution strengths, these targets were seen as realistic. Reliance Retail till date has established its presence across 17 Formats and has JV with 14 Global Brands.
We'd like to present to you the Report Card of how Mukesh Ambani has performed on his Promise of Reliance Retail in 2006 with what is achieved until March-2012.
Mukesh Ambani's Promise for Reliance Retail in 2007
RIL planned to invest US$6bn over the next 5 years.
Planned retail space: 100m sqf in ~800 cities and towns within 5 years.
RIL expected its subsidiary Reliance Retail to clock revenues of US$22bn by FY12.
Brands – Reliance Fresh – food retail; Ranger Farms – wholesale-format stores.
Store lease versus ownership: Combination (we estimate 50% owned and 50% leased)
Store formats – Hypermarkets, smaller formats for food & general merchandise, specialty retail
Business model – Cash-n-carry outlets in stores for distribution to local retailers. May convert local stores into Reliance franchisees.
What is Achieved by Reliance Retail the End of FY 2012 by Reliance Retail?
Investment (till FY12): US$1.7 bn
Stores – 1,300 stores operational and more being opened. The store count has come down after company closed several unviable stores.
Expansion –  Retail expansion was put on hold for a year. After several round of restructuring, company is now ready for expansions
Revenues  US$1.5bn in FY12. Balance Sheet is till in Red. The company had a loss of $100Mn in FY 2011
Retail space – Largest retailer has around 18mn sqf of retail space
Management team – During the last five years, Reliance Retail has changed the senior management team three times. New team is from Wal-Mart China that will replace the previous team that was hired from Tesco Lotus, Thailand
Change in Focus – The core focus has undergone a big change during the last three years. Initially, Reliance Fresh was the focus area. Now, company is focusing mainly on Reliance Mart, Reliance Trends and other specialty formats.
Retail in India is a Big Opportunity with which comes Big Hurdles too. During this time, companies like Vishal Megamart went Public and subsequently bankrupt too. When will Reliance Retail Fulfill the promises it made in 2006-07 ? What is your take ?