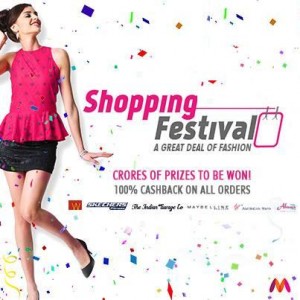 Strategic innovations and quick adaptation to the emerging trends in Retail industry is happening round the clock as the global retailers prepare themselves for the fierce competition posed by their peers. And the India's story is no different; below are some facts to substantiate that.
India has over 230 million Internet users and since 2009, it has witnessed more than 1,200 e-commerce firms opening shop in the country.

According to a CLSA report published in November 2013, India's has nearly $3.1 billion e-commerce market (includes both direct and through marketplaces) and it's expected to grow by over seven times to $22 billion in 5 years.
In recent months, many investors have expressed their interest in India's e-commerce sector by pouring a total of nearly $1 billion into India's promising start-ups like Flipkart, Snapdeal and Myntra. Flipkart alone, has been able to garner about $540 million in funding since it was founded
To gauge India's tremendous potential we can compare the above to China's nearly $200 billion market in 2012 for online sales which is expected to grow to $650 billion by 2020. Retail sales in China grew significantly last year and one of the testimonials to that is Alibaba's china-focused B2B platform, 1688.com, was able to sell $679 million (over 4,200 crores) worth of products on a single day!!
A lot of inventory-led e-commerce companies have been moving to the marketplace model lately as it helps control costs in an otherwise high cash burn space. A marketplace is a virtual platform where the company does not stock inventory but links sellers and buyers. Some choose a hybrid model of holding an inventory and running a marketplace, while many prefer the simple, 100 per cent marketplace model. The marketplace model allows ecommerce companies to bypass inventory-related costs, which form a substantial portion of their overall cash burn, while continuing to receive critical foreign direct investment, which, otherwise, is banned in direct online retail.
It all started in 2012, with Amazon's, world's biggest ecommerce player, entry into India's online retail market by launching Junglee.com – a price comparison site that gave it insight on what consumers want to buy and are willing to pay. Amazon then established its India operations and is currently a market place for other vendors, in line with government regulations. It has started working with the Indian postal service, India Post, to ship its deliveries to remote areas and currently piloting a project with India Post to test its Cash-on-Delivery model.
Soon after, in 2013, Flipkart, India's ecommerce poster boy, switched to a hybrid model by launching its own marketplace that now hosts more than 1,000 retailers. The company previously sold to consumers from an affiliated seller, WS Retail. In future, Flipkart has plans to be an m-commerce based marketplace as over 20% of its sales comes from handheld devices. The company is currently piloting a program intended to opening the services of its logistics arm, eKart Logistics, to other online retailers. Flipkart's online payment gateway solution PayZippy, that allows customers to save their credit card details, is already being used by other e-tailers as well.
Myntra, Bangalore-based and one of India's biggest online clothing and footwear retailers, is the latest of Indian retailers to launch a marketplace. The idea is to allow local stores and boutiques to sell their products on its website and the launch is planned by April 2014. However, Myntra will continue to sell premium and private label brands through the inventory model and so both the models will co-exist. This move is aimed at earning profits and expanding its reach in India's smaller towns and cities.
Amongst large Indian online retailers, only the New Delhi based, Snapdeal has a pure marketplace model. Today, it lists goods from about 20,000 merchants in a variety of categories and has about 20 million registered users. Aiming to be a marketplace leader, Snapdeal has already raised more than $200 million since 2011. That includes recent funding of $134 million from eBay which resulted in an estimated 20% stake of the American company in Snapdeal.


Online baby care products e-tailer, Firstcry plans to open physical stores in Tier II and III cities across the country. Firstcry, currently operates about 15 physical stores through the franchise route. By stepping up this network aggressively it will be able to compete with brick-and-mortar retailers like Mahindra Retail's Mom & Me and UK's Mothercare. Some other online ventures like an online jewellery store, Bluestone.com, and an online home furnishing and furniture store, Fabfurnish, have also adopted the online-offline hybrid model by opening a physical store.
Experts predict that, although there isn't any reliable numbers for the potential market size of online B2B transactions in India, the Indian wholesale online market has the potential to grow larger than retail. So far, eBay was the only major retail portal in the country that has wholesale lots listed for online transaction but on the flipside, the prices are same for bulk and retail orders. Now, India's first exclusive online wholesaler has come up becoming the only one to allow retailers to buy products in bulk at wholesale prices, which will typically be lower than the retail price. This wholesale site will be a part of ShopClues.com, a retailer who is adapting and diversifying into wholesale in order to compete with larger and more established marketplaces like Flipkart and Snapdeal.
How can Walmart be far behind from its US-based peers such as Amazon and eBay's foray into Indian market? After its brick-and-mortar expansion plans in India didn't go as expected, was put on hold until 2015 and ultimately had to part ways with longtime partner in India, Bharti Enterprises, now Walmart seems have a Plan B. Rumor has it that Walmart is readying for a major e-retailing push in India with an electronic marketplace business model. People familiar with the development say that it is expected to go live in the next three to four months and will initially serve wholesale consumers. Hopefully with this move, Walmart will be able to catch up with Amazon in the online retailing space. Walmart's ecommerce revenues contributed to $10 billion as compared to Amazon's $74 billion in 2014.
The online retailing scene in India has seen strong growth in recent years and is poised for explosive growth ahead. According to retail consultants Technopak, Indian online retail sales forecast suggests that it will grow more than a hundred-fold to $76 billion by 2021 from just $600 million at the end of 2012. So a retail industry enthusiast can keenly watch how well the Indian retailers play their smart moves and whether or not it pays off and if so then how soon.
About the Author This article is contributed by Dhrutiman Mishra, GMU Unit, Infosys Bhubaneswar, India who has started writing blogs on topics pertaining to the recent trends in technology/business, especially on Indian e-commerce.
Image Courtesy: Myntra.Com