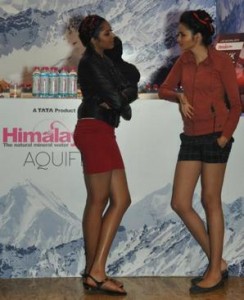 Mount Everest Mineral Waters, a subsidiary of Tata Global Beverages, manufacture premium brand mineral water Himalayan. Himalayan facd distribution hurdles and even acceptance in local market. However, the marriage of Tata's with Starbucks world's leading Coffee chain to establish Tata Starbucks Coffee outlets in India has helped the former win retail shelf space for Himalayan across overseas outlets of Starbucks. If you have read our articles on FDI in retail, we highlighted and stressed on this benefit where India Private Labels and vendors could gain access to Global Markets.
Tata Global Beverages acquired the Himalayan brand in 2007 for its competitive edge and ease of marketing Water from Himalaya which has historical significance. Tata's are planning to ramp up the brand with the introduction of flavored and sparkling water. Pradeep Podar, MD of Himalayan speaking after announcing the JV said,
We are working on creating variants for Himalayan water as it will now be taken across the 18,000 stores of Starbucks. We want to drive scale through the Starbucks outlets. We are not looking at profits for Himalayan immediately. It is about building scale and now with Starbucks, we hope to achieve this.
Since Himalayan Mineral Water is sold as a premium brand water, its sales were restricted to just Mumbai and Delhi and major metros like Bangalore, Chennai, etc.
Tata will also offer Tata Water Plus and Tata Gluco+ at the lower segments of the market and Himalayan at the premium end.
Any Guesses on which Indian brands, retail vendors can find a place on Global Shelves like Himalayan did ?