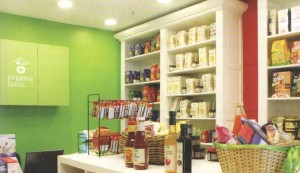 This is the Second Part of the Two Part Coverage on Organic Haus [First Part is here]
Organic Haus – Products Range in India
They have a wide range of products and all of them are vegetarian. Vegetables and fruits for the juices are harvested at full moon and bottled using a heat shot (similar to vacuum packing) so that they remain preserved for a longer time. Typically, they have a shelf life of a year and need to be consumed within a few days of being opened.
Juices with no added sugar or preservatives. Variety of wafers made in fresh oil, coffee that has been freeze-dried at a certain temperature, herbal teas, crackers, nut butters made from pure nut oil, gluten-free bread (made of rye, oat, spelt), sauces (to complement Italian cooking), mustard, popcorn, nuts, instant pudding powders, dry fruits (apricots, grapes, prunes), breakfast cereals (muesli, oats). Organic honey where the bees are not killed and the flavours are not infused.
Organic Haus also stocks a variety of rice (jasmine, wild rice, risotto rice), pasta (semolina, millet, etc), curry pastes, veg pates, cooking oils (olive, linseed, sunflower), chocolates (milk, dark and flavoured) and vinegar (balsamic, spice, raspberry, apple).
Organic Haus non-food items include home care (hand-wash, softeners, scaling products, detergents), health supplements and slimming solutions. Our cosmetics range includes shampoos, soaps, creams, etc. Some of the brands visible in the store are Allos, Beutelsbacher, Bionade, Byodo, Rapunzel, Salus, Schnitzer, Schoenenberger, Sonnentor, Sonett, and Vivani, all from Germany. Organic Haus will be be bringing in biscuits, dairy products, milk and ice cream.
Organic Haus Product Positioning
One of the main points of difference between Organic Haus and other Indian organic brands is that the former does not deal in fresh produce since they are a representative of the pioneering organic-food companies from Germany. The other organic stores in the country complement their offerings. Together, the customer gets a full basket.
Returns on Investment for Organic Retailers
This is a Long Gestation Business just like the Telecom. Organic Haus has amounted to around Rs 18 crore until now. They have not yet reached the break-even point. Ideally, to turn the returns in favour, a store should do a business of minimum Rs 60-70 lakh a month. This I will take a total of three years for each shop.
Challenges for Organic Haus / Retailers in India
Currently, they need to focus on our retail activities towards this purpose, as they are constantly haunted by the high cost of survival. The biggest challenge is to find a reasonable landlord because any space that is available has the same price but a different output – these are simply opportunistic trends.
The government ought to look at relaxing the duties and reduce the bureaucracy. Organic foods do not have a long shelf life and sometimes it takes weeks to clear the customs. Moreover, the authorities have to be more aware of imported products and be customer- and imports-friendly. Add to that the cost of duties and taxes and the customer ends up spending a princely sum. But, in the end, it is about belief in which is good for you.