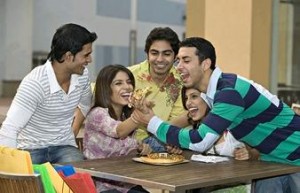 Domino's Pizza celebrated new milestone by opening the 500th store in India at at Rajinder Nagar, Delhi.
Domino's India operations is the fastest growing operations in the Domino's global system and continues to be the market leader in India with 55% Slice of the Pizza market. In the last few years Domino's Pizza has not only aggressively expanded its footprint, but also has been focused on winning more customer hearts across India through its tasty Pizza offerings, unmatched delivery promise and warm customer service approach.
Mr. Bhatia, Chairman of Jubilant FoodWorks Limited master franchise of Dominos in India said,
To achieve this, we have put together efficient processes, talented people and robust machinery which has been able to deliver fantastic growth over last few years. We have been able to set new benchmarks in the food service category by creating many firsts. In the global Domino's system, we are amongst top 4 countries now in terms of absolute number of stores.
Mr. Ajay Kaul, CEO, Jubilant FoodWorks Limited Said,
As a food service company, we believe in innovation; right from our lip smacking products to our exciting consumer campaigns. We are a customer centric brand and our thrust is to delight our customers in every engagement they experience with us.
Great Going Dominos and Jubilant, we hope you someday Jubilant will occupy the top slot in Dominos Global System.