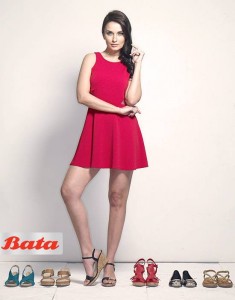 India's Leading Footwear retail chain, Bata India has added 95 new stores and renovated 83 stores in CY 2013. However, the company seems to have also closed a high number of stores during CY13 indicated by the disposal / reduction on the Gross block of fixed assets. The store closures though would be older small sized stores, which were not necessarily located in prime locations and would not be performing well as they are constrained by the location and product range.
In CY13, we note that premium brands across the categories i.e. men's/women's & kids wear have done well. The Menswear brands of Ambassador, Comfit, Moccasino – recorded a high growth. In women's wear, Marie Claire & Sundrop brands and lastly kids wear Bubblegummes and Angry Birds continued to do well. Going forward, in CY14 Company's focus would be to invest in the Hush puppies brand to re‐position as international premium lifestyle casual footwear brand to drive the value growth. FOOTIN is the Bata's fashionable, young looking and affordable footwear brand presented through a high‐density display concept. This collection is mainly to attract college going teenagers with the focus to improve volume growth. Further, we analyze that Royalty to third party has grown ~32% YoY in foreign currency terms suggesting that Hush puppies, Angry Birds, Dr. Scholls etc would have registered healthy growth YoY.


The ad spend surprisingly reduced on absolute terms (de‐grew by 11% YoY) and as % of sales decline by 20 bps to 0.7%. We expect advertisement expense to increase in CY 14 as company positions itself as a lifestyle brand. It has already begun its Television ad Campaign for Spring Summer 2014.
The technical collaboration fees remained at 0.9% of Net Sales (unchanged YoY). However, from further reading of the Annual report we are inclined to believe that involvement of Parent company/BSO is has already increased and is now likely to increase as the fees paid to parent company's now includes R&D footwear technology etc.
Bata Retail Supply Chain Insight
Bata India controls its supply chain from the head office at Gurgaon which controls the demand planning, replenishment, transportation and warehousing operations. The New supply chain planning processes will ensure right products at right stores at the right time in right quantities and right sizes, which will improve efficiency and reduce cost of holding inventory. This initiative will reduce the out of stock events at retail stores thereby improving the customer service levels.